Walk this way! Did you know that White City has more than 12 kilometers for multi-use pathways woven throughout our community with another 9 kilometers on the way. Plenty of opportunities for you to ditch the car or couch and bike, hike or run!
A multi-use pathway means a pathway that is used for pedestrian and bike traffic. It should be constructed in an area where is it evident that the inclusion of the multi-use pathway will provide a connection to an existing or proposed pedestrian network.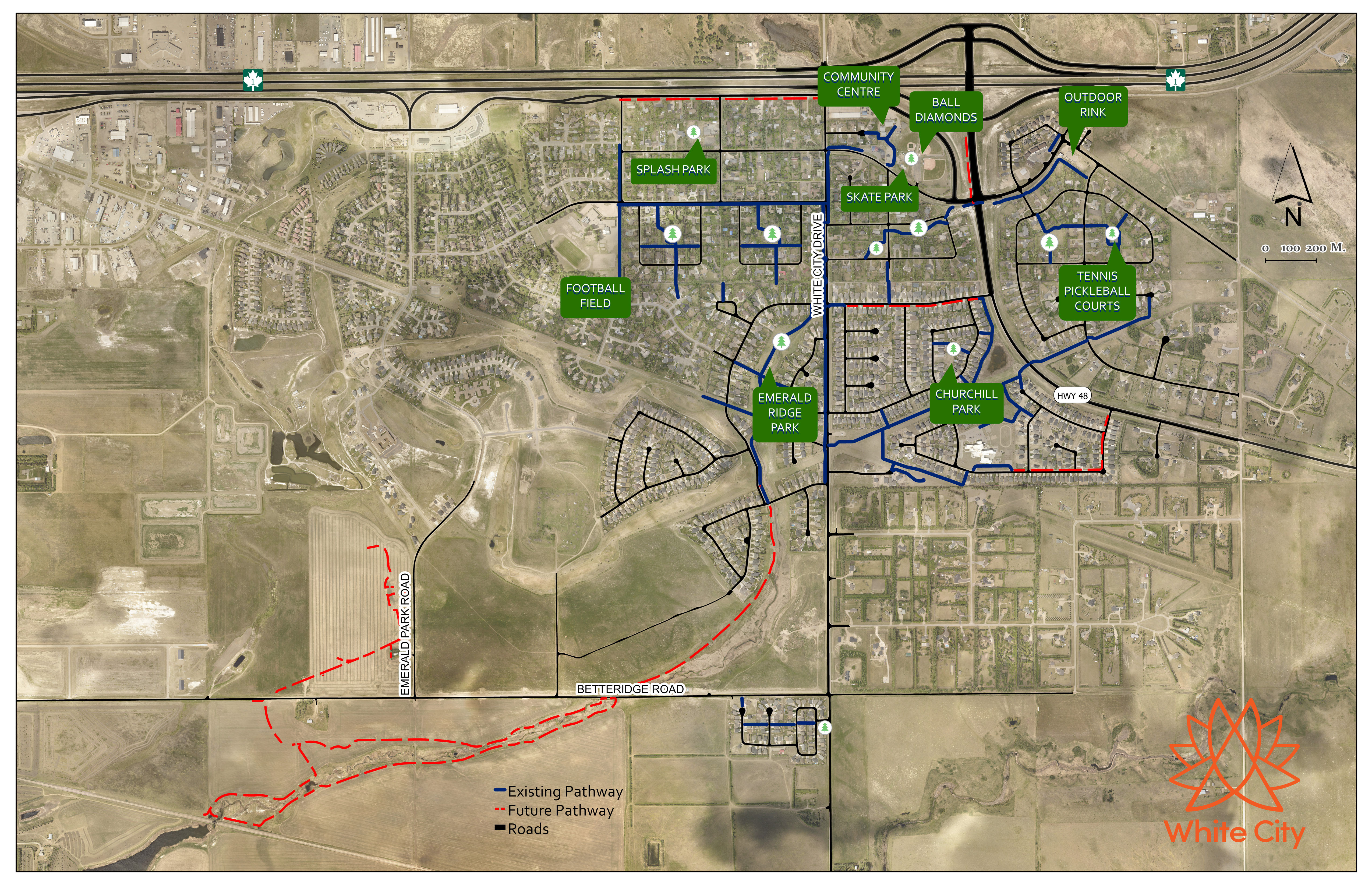 Our community has a mixture of residential and commercial development that has been developed with no sidewalks, curb, gutter or underground storm sewers. While this type of road is less expensive to construct and maintain, it can be a challenge for bicyclists and pedestrians. These development standards, along with recent growth in the community over the last 10 years, has led the Town to explore ways to improve pedestrian safety and ensure White City continues to be a bright, safe and healthy community.
In 2015, the Town commissioned a Traffic Study to help achieve the goal of improving pedestrian safety. One of the items reviewed in the Traffic Study was the Town's pathway system. In response to this review, the Town implemented the Multi-Use Pathway Network Improvement project in 2019 to improve pedestrian safety in the community. This project aims to address multi-use pathway gaps and enhance pedestrian accessibility and mobility on existing streets that lack adequate infrastructure to support the pedestrian friendly environment of the Town of White City.
In 2016 the Transportation Advisory Committee (TAC) was created with a key responsibility of encouraging community dialogue on traffic and pedestrian safety issues affecting the Town, recommending traffic safety improvements and promoting the creation and adoption of projects and policies related to traffic and safety.
The assessment and evaluation of the municipal pathway system has been focal point for the work of TAC. When evaluating the functionality of the municipal pathways system and the need of an improved pathway network, the committee focused on the following criteria:
Location
Safety
Continuity & Integration
Pedestrian Traffic
Community Support
In addition, TAC evaluated selected roads within the Town's transportation network for motor vehicle speed and pedestrian safety issues. Based on the above-mentioned criteria, the committee identified the following priorities for improvements to the Town's pathway system: